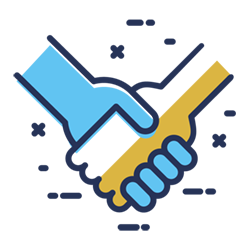 NDIS
Support
Coordination
---
Learn More About
NDIS support coordination services
NDIS Support Coordination
Our team works with you to organise the supports needed to live your best life.
Our dedicated NDIS Support Coordination Officers will assist you to find and organise individualised, quality supports to achieve your goals and help you to participate more fully in the community. This would include assistance with linking you with the right providers and coordinating delivery of these supports so that they meet your needs and align with your NDIS Plan goals.
Centacare offers a person centred approach to service delivery ensuring our participants always have choice and control of all aspects of their lives.
Our NDIS Support Coordinators work with you to:
help you understand your NDIS plan;
ensure your plan runs smoothly and efficiently;
explore options to identify the services and service providers that best meet your individual needs, exercising full choice and control;
provide support to connect with service providers as outlined in your NDIS plan;
support you to access and navigate the NDIS Portal;
establish and renew service agreements; and
address plan issues.
Delivery of Service
Your dedicated NDIS Officers will work with you to achieve the goals identified in your NDIS plan; some of these may include:
providing assistance with everyday living needs;
building and maintain relationships with family and friends;
accessing the community for social and educational activities; and
connecting with medical and allied health services.
Service Registration
Fees, forms & how to apply
FEES: Fees charged as per the NDIS pricing arrangements and limits
DELIVERY: Online, face to face, and over the phone.
FORMS:
HOW TO APPLY:  Most requests come from the NDIS via Proda as a request for service. (RFS)
Participants can also contact Centacare on 1300 619 379 or enquire online.