Thank you so much to Tallented Tyres for becoming a Silver sponsor! We are excited that we have your support – it's sponsors like you that allow us to pursue our mission.
Tallented Tyres is family owned and operated. Tallented Tyres use the latest diagnostic equipment to guarantee your vehicle has the best tyre fitting possible.
Tallented Tyres are passionate about providing honest tyre advice that keeps you and your family safe, whilst also ensuring superior value over the lifetime of your tyre, suitable to your budget.

Why are we raising funds and awareness?
There has been a significant increase in the need to support people with mental health issues, assisting young people within the Griffith & surrounding communities navigate friendships, social media, their own mental health and wellbeing challenges, personal trauma and other tragedies.
Our overall aim & desire is to help every young person reach their desired goals through inclusion, prevention and education around mental health & wellbeing.
By creating a safe space for kids to come & visit, talk, and at times have a quiet place to study whilst being supported by our team of practitioners.
By attending our Blue & Green Tie Fundraising Ball shows your community that you care & support mental health services & awareness.
Purchase your ticket HERE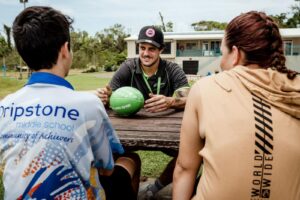 Want to know more?

If you would like to know more about this story; any of the featured people or would like to submit an idea for an upcoming story, 
please get in touch
.